Measurements
---
Rough plan in hand I took it up with the other half of the landscaping team, my wife, and got a reluctant go-ahead. Based on the sketch it looked like the new pond would be 15x10 feet. Wow.
Here's how you figure out how much pond liner you need. Instead of thinking of it as a big rubber sheet think instead of a single, long rope. If the pond is fifteen foot long and the rope was extended taut it would be fifteen feet as well. Now adjust for depth.
Imagine you have two people stand fifteen feet apart and hold a long rope at about waist level (three feet). They each let out rope slack until it reaches the ground at their feet. If you were to measure it you'd find that it took another six feet of rope to reach the ground (three feet per side). Of course your pond doesn't go straight down three feet, but you will need some extra around the edges so this is a good rule of thumb.
Suddenly your fifteen foot pond is really a twenty one foot pond, and the width goes from ten foot to sixteen. Twenty one by sixteen, that's a big hunk of rubber folks.
Back to the internet and this time to price things out. They don't typically sell cut-to-order pond liners and the nearest match is 25x20 foot, quite a step up in price. Time to make some more measurements.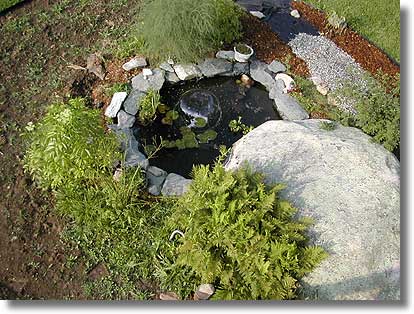 You can see the trailing edge of the landscape project in the upper right of the photo. Little did we know it would be like that for months! The area for the new pond is cleared out around the old pond, which was looking pretty nice if not a little overwhelmed by all of the greenery.
Measuring possible layouts and sizes I determined that a nine foot by twelve foot pond would work out fine. Just about double the size of our current pond, in all three dimensions. Going with this size meant we could step down to a 15x20 foot liner.