The First Winter
---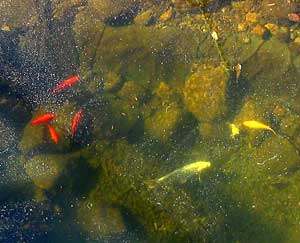 I'm happy, if not amazed, to report that all six fish made it through winter in the new pond. There's a few unlucky bullfrogs who didn't but overall the pond seems to have wintered nicely.
We fished all of the time when we were kids and I'm pretty sure we never thought about what the fish did in the winter. There's ice fishing, so what's to think about? But last November, with winter fast approaching for our new pond and half dozen fish that's all I could think about.
I bought a Thermopond, a little low wattage heater to help keep a hole in the ice for dangerous gases to escape. The Thermopond is equivalent to leaving a hundred watt light burning all winter. There are much bigger heaters, some equivalent to leaving every light in your house on all winter long, but I couldn't really justify the expense or needing that much heat.
For the most part the Thermopond worked, although it needed a lot of help in the bitter teeth of January. We had weeks and weeks of below zero temperatures and the little heater was losing the battle. I wedged a two by over the hole in the ice, then draped a thick sleeping bag over that for an impromptu fish pup-tent.
At one point I had to drag the garden hose out a basement window and through the snow to top up the pond's water supply. Plenty of water now, with the ice thawed and seepage from nearby snow melt. The next task is getting the pump and waterfall thawed out and start moving water again. As you can see the water is a little "fuzzy." It's also pretty stinky: a few dead frogs, earth worms, and various decaying leaves and plant matter will do that.
Also on the to-do list.
Fix the hill: torrential rains in December washed away some of the hill taking along a few of the boulders.
Water plants: hopefully the water lily survived, but even so we need more aquatic plants
Bugs and stuff: will visit a nearby natural pond (when thawed) and grab some frog eggs, lizards, and whatever else wants to come along. [insect journal]
Shade: provide a shady area for the fish since they haven't perfected sunblock lotion
Also, I've realized a few things since building the pond, maybe they'll help you in your own pond construction.
Pond level drainage: this is for those times when you get a couple inches of rain overnight and the whole yard is washing into your pond. Better to have the pond edges a little higher and be able to drain excess water away on both the inside and outside of the pond.
Underliner drainage: spring in New England is wet and when the soil becomes saturated it causes water to collect under the pond, forcing the liner to balloon inwards. Not so bad now that this pond has big rocks in it, but still a problem.
Don't forget landscaping cloth, especially around hills made with boulders!