First Falls!
---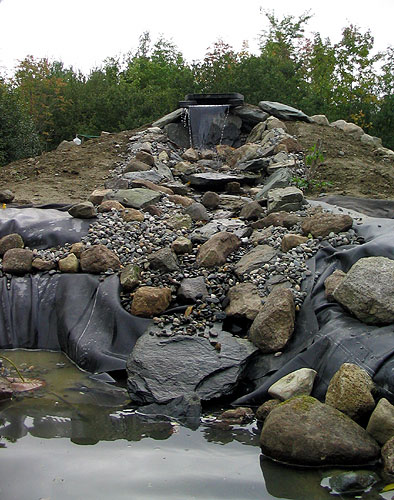 The pond is very, very close. Most of the week was spent trying to fuse the rubber liner to the huge boulder protruding into the pond. Triple expanding foam to fill the big gaps, minimal expanding foam to fill the little gaps, and then a few applications of silicon sealant to seal all of that.
It's messy, unexacting work. Rubber being what it is, rubbery, and rock being what it is, rocky, there just wasn't a simple solution to joining it all together. While the final application dries I started filling the pond and even turned on the pump for the first time, the results of which you can see cascading down the top photo.
Let me talk about the stream bed just a little bit. Water tends to gravitate to the lowest point so if you fill up your stream with rock the water will flow underneath. I layed down some triple-expanding insulating foam first, then put rocks on that. The foam filled and sealed the space under the rocks.
About halfway up you'll see a large, flat rock. This is a secondary waterfall made from the flat rock, lots of foam, and strategically placed rocks/foam along it's sides. The water has to flow over the flat rock and I leveled it so the flow would look nice.