Making Shade
---
Here is what the completed sun shade pyramid looks like.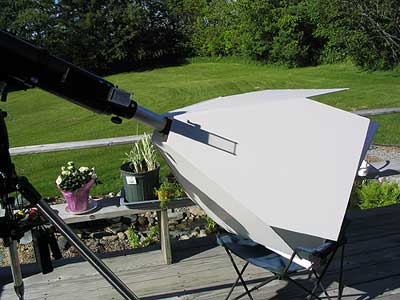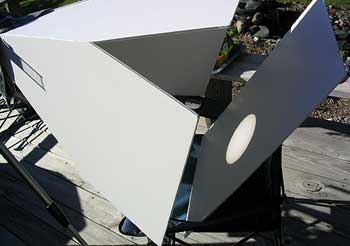 There you have it, a nice, lightweight source of shade. I also put a small piece of cloth around the focusing barrel to block the little gaps between it and the foam board. Hmm, if I had a camera mount inside of the pyramid I could close the other end off with the flat foam board and take photos remotely. Maybe even use something like an iSight or video camera to film the event.
While putting away all of the gear I tried out the technique of reflecting the sun into the house. This was done by putting the ninety degree diagonal back on the lens mount and setting the telescope close to the house but still exposed to the sun. It worked surprisingly well.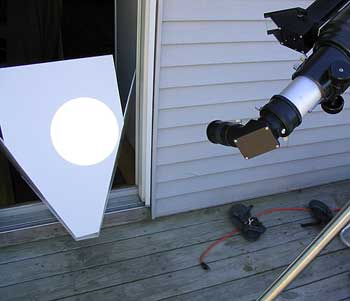 After about five minutes of viewing the diagonal was a little warm to the touch. Remember, before you do this you should make sure that your lens and reflecting surfaces are clean. It's like getting fingerprints on halogen bulbs, the dirt and oil absorbs some of the passing light and heats up. Too hot and you get shattered glass or melting components.