Full Of Hot Air
---
When you want more heat you feed more pellets. If you feed pellets to fast there will be unburned pellets, which overflow out of the crucible (and thus never get burned). Pellet stoves are calibrated to feed the right amount of pellets for fast and slow burn rates. If your stove seems to be starved for fuel it could mean your auger isn't working right. If your stove ash has unburnt pellets it probably means the airflow has become restricted.
I've noticed that new pellet stoves come with a temperature sensor right above the crucible, which probably means that they've added the smarts to exactly control the feed rate based on crucible temperature and external heat settings. Our stove has a simple controller but it does provide an external wire for thermostat control. We attached it to a programmable thermostat which lowers the temperature at night, causing the pellet stove to run at its lowest feed rate.
There's at least one other component on a pellet stove that you usually don't find on a log stove: circulating fans. There is one or more squirrel cage fans (don't you love that name?) that blow air around the heating chamber and through special heat exchangers, moving the stove's heat away from the stove and to the rest of the house where you can appreciate it.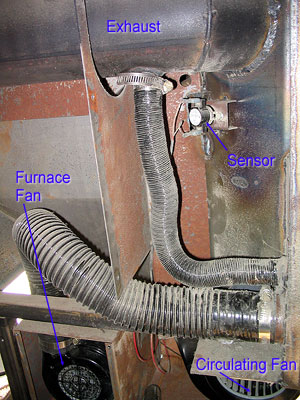 Here you can see the two fans and some of the pipes that feed air into the burn box. Oddly enough there's a little side pipe which goes into the exhaust pipe. I'm not sure if this sucks pre-heated air into the blast mix or if it sends cool air out the exhaust pipe.
The circulating fan (actually there are two of them run from the same motor) feeds air into the back, through metal ductwork behind the burn box. The diagram on the previous page shows this. That air is then forced through the heat exchangers shown in the next photo.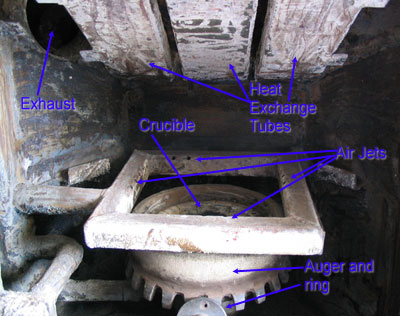 Heat exchangers are hollow pipes or chambers that run through the inside of the stove. Inside the stove they are surrounded by hot air, as air is blown through the pipes the heat is transferred and blown into the house. It does a pretty good job. Our exhaust pipe is hot to the touch, but not extremely hot.
So that's how a pellet stove works. The one thing a traditional wood stove has over a pellet stove is simplicity. Wood stoves may be inefficient and polluting, but they don't have many moving parts. A pellet stove will generally have a couple fans, an auger motor, and some sort of control electronics. In eight years of pellet stove operation we've only had one failure, which could have been avoided if we knew a little more about cleaning the stove.
And as I mentioned earlier pellet stoves rely on electricity. I've heard of a pellet stove which generates it's own electricity, but I don't know how effective and durable it is. Some stoves run off of 12vdc, some use household AC. The power demands aren't very high.